Tjapukai Aboriginal Cultural Park

Tjapukai Aboriginal Cultural Park has been the leading Cultural Tourist Attraction in Australia for 17 years and has grown from a small operation in the basement of a shopping centre to a $10,000,000 25 acre property at Caravonica, just 10 minutes north of Cairns city. Tjapukai has been a national and international tourism and business success from the beginning.

Australia's most awarded attraction, Tjapukai Aboriginal Cultural Park combines the latest in theatre and technology with interactive activities featuring traditional culture and customs.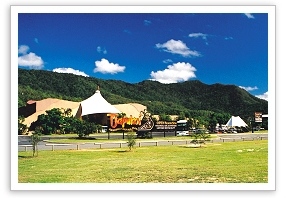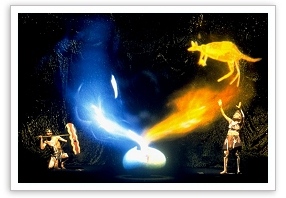 The attraction boasts seven separate arenas allowing visitors to experience many facets of the Tjapukai people's culture, and interact and learn more about the Tjapukai way of life and traditional practice. These include the History Theatre, which explores what happened when this ancient Aboriginal culture was thrust into the modern world, the Creation Theatre, where Aboriginal actors combine with innovative holographic images to tell the wondrous legends of the Story Waters, the creation myths of the Tjapukai, and the Dance Theatre and interactive cultural village, where dance and music come alive. In the Cultural camp guests have a chance to throw spears and boomerangs
In 2002 Tjapukai added an exciting new element to its operations, Tjapukai By Night. This evening dinner show provides guests with the opportunity to become a part of an ancient corroboree ritual, which climaxes in the ceremonial making of fire. A powerful and personal experience, Tjapukai By Night has fast become one of the most popular tourism experiences in Cairns. It also incorporates an on-site banquet showcasing some of North Queenslands best food and wines.
The Tjapukai Aboriginal Cultural Park operation also boasts extensive retail and food and beverage components with a 250 seat restaurant and award winning retail/ gift shop on site.
As a tourist attraction Tjapukai enlightens and entertains audiences, crossing cultural barriers and engendering a warm feeling of simpatico and positive regard for a rich and ancient culture and its descendants in a modern world.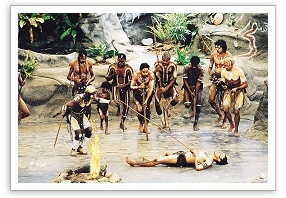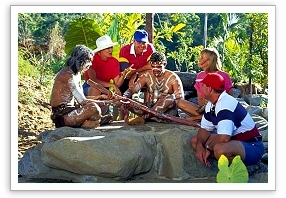 A successful tourist attraction ha multiple spin off benefits for the entire community. Tjapukai Aboriginal Cultural Park has been an important draw card for the Cairns region and has been recognised for the fact that it extends the time people stay in the Cairns region as well as providing work for the many artists and craftspeople we buy from and the many tour guides and coach drivers that are employed to bring visitors to the centre.
Tjapukai and its principals have the experience and the expertise to create a financially and artistically successful enterprise. They are hands on operators of a significant commercial enterprise in Cultural tourism and over the years have faced almost all the problems of a small to medium sized enterprise operating in a unique business environment. They have expertise in the development of content and concept, in design and development as well as marketing, business systems and employment of Indigenous people.
Tjapukai is an incredible success story and the flagship for marketing Australia's Indigenous culture internationally.
From its inception, the Tjapukai Aboriginal Cultural Park has been a co-operative and consultative venture with the local aboriginal people. It is a true partnership owned by the Djabugay and Yirrgandyji people, Indigenous Business Australia, the Chapman Group and Freeman Productions. The Aboriginal people own the land occupied by the park.
As a tourist attraction, Tjapukai enlightens and entertains audiences, crossing cultural barriers and engendering a feeling of warm simpatico and positive regard for a rich and ancient culture and its descendants in a modern world. Its success has eased racial tension, spurred self-determination and has revived an Aboriginal language and a culture that was being lost through the passing of time and generations. The empowerment this attraction provides for the Tjapukai community is wide reaching.
Tjapukai is one of the largest private employers of Aboriginal people in Australia. It employs nearly 100 staff, of which 85% are Aboriginal. The benefits of self-determination and cultural pride brought about by such valuable deployment of human resources are felt throughout the entire community.
Under an innovative employment strategy designed specifically for the park, Tjapukai entered into a benchmark agreement with the Federal Department of Employment, Education and Training, which incorporates a series of program elements including:

Recruitment to permanent positions in the company in a range of occupations, including management, administration, retail, hospitality, performing arts, grounds and maintenance.
Development of a variety of skills enhancement and career development programs, to meet the identified needs of Aboriginal and Torres Strait Islander staff that have been recruited by the company.
Cross-cultural awareness training seminars for managers, supervises and co-workers, create a receptive workplace environment, influencing career advancement and promoting harmony and productivity in the workplace.
In recognition of its employment performance and benefits, Tjapukai won the Medium Employer of the Year in the Queensland Training Awards (NQ) in 1999.
The success of Tjapukai has also encouraged the formation of other Aboriginal dance groups in the Tropical North Queensland region, which has created even more new jobs for Aboriginal people in the tourism industry.
---
Tjapukai Aboriginal Cultural Park Timeline
Under the direction and management of Don and Judy Freeman, Tjapukai acheived the following milestones:
1987: Launch of Tjapukai Dance Theatre in Kuranda basement. Instrumental in starting the first Kuranda day tour and centre of a burgeoning industry.
1988: Invited to perform at Expo 88 in Brisbane.
1989: Moves into its own-purpose built $1 million theatre in Kuranda. First international tours - France and New Zealand. Wins Pacific Asia Travel Association Gold Award for cultural development.
1990: World Tour with Australian Tourist Commission, Qantas and Ansett to lead Australia's tourism recovery giving 58 shows in 60 days on four continents. Performs at World Expo in Japan. Represents Australia at USA Fair. Wins Queensland Small Business Award and Queensland Tourism Award for Heritage and Cultural Tourism.
1991: Tour of United States. Tjapukai documentary wins the award for Creative Excellence at the 24th Annual US Film and Video Show.
1992: Overseas tours to Korea, Japan and Singapore. Wins Australian Tourism Award, Queensland Tourism Award and Outstanding Contribution Award from Inbound Tourism Operators Association.
1993: Performs at the Kennedy Centre, Washington D.C. and Expo '93 in Korea. Tours Austria, Canada and US. Wins Queensland Tourism Award and Australian Tourism Award (Minister's Award).
1994: Features at Commonwealth Games - Canada, with TV audience of 100 million and performs for the Queen.
1995: Tours Japan, Minister's Award for Outstanding Overall Contribution at Australian Tourism Awards.
1996: Performs at Eco-Challenge '96 in Canada, tours Canada and US. Opens $9 million Tjapukai Aboriginal Cultural Park near Cairns. Enters Guinness Book of Records as Australia's longest running show.
1997: Tours New Zealand. Wins Queensland Tourism Award and Reconciliation Award.
1998: Tours Singapore and Guam, wins Queensland Tourism Award and Australian Tourism Award and is voted Most Popular Venue by the Institute of Australian Tour Guides.
1999: Tours Japan and USA. Wins Queensland Tourism Award, Australian Tourism Award and the Pacific Asia Travel Association Culture Award in Nagoya, Japan.
2000: Presents Welcome Ceremony for the Sydney Olympic Torch. Enters Queensland Tourism Awards Hall of Fame. Wins Queensland Tourism Award and Australian Tourism Award for Tjapukai Retail Gallery. Tours Japan.
2001: Tours Japan. Performs at Australian Tourism Exchange - Brisbane. Wins Australian Tourism Export Council Award for Attraction Excellence.
2002: Hosts Queen Elizabeth II and Prince Philip at Tjapukai Aboriginal Cultural Park during the 2002 Royal Visit to Cairns. 'Tjapukai By Night' opens. Queensland Tourism Award for Outstanding Contribution To Tourism.
2003: Tour of Taiwan.
2004: Tour of Singapore. Winner of the ATEC Award for Australia's Top Attraction.
2005: Winner of Queensland Tourism Award for Best Significant Tourist Attraction, The Queensland Premier's Award for Reconciliation and The Gnunkai Award for Outstanding Contribution to Aboriginal Tourism.
2006: Selected by the Australian Government (DFAT) to represent Aboriginal Australia at "G'Day LA Australia Week 2006" held in LA. Selected to represent Queensland by Tourism Queensland during the European tour "Queensland on stage".
« Return To Projects | Visit The Website - www.tjapukai.com.au